Exodus is confirmed for Knotfest meets ForceFest Mexico set for December 1st. For more info: https://forcemetalfest.com ; tickets: http://bit.ly/KnotForceMX
Related Posts
With a bond forged in youth and decades-old friendship, the undisputed masters of thrash metal return with their eleventh studio album, PERSONA NON GRATA due to be released on November 19th via Nuclear Blast Records.

Today, the band releases the music video for the first single entitled, "The Beatings Will Continue (Until Morale Improves)". Watch the video that was written and directed by BJ McDonnell and produced by James A Rota, here: https://nblast.de/Exodus-TBWC-YT

Gary Holt comments "After what seems like an eon, we now have the debut of our first single, 'The Beatings Will Continue (Until Morale Improves)'. I'm so jacked up for this and the release of Persona Non Grata! Let's get the bloodletting started!"
Pre-order your copy of PERSONA NON GRATA, here: https://exodusattack.com/site/persona-non-grata

Pre-save the album, here: https://exodus.bfan.link/persona-non-grata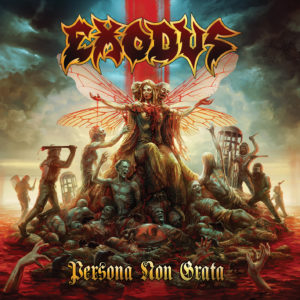 Literally translating to "an unwelcome" or "unacceptable" person, PERSONA NON GRATA touches on themes of modern societal disgust and degradation. The band gathered at Tom Hunting's house in the mountains where they produced and recorded Persona Non Grata from three home-built studios . Steve Lagudi was at the helm of engineering while the band enlisted Andy Sneap of Backstage Studios to mix the album. For the third time in the band's history, they returned to Swedish artist Par Olofsson to create the album artwork.
Below is the PERSONA NON GRATA tracklist:
1. Persona Non Grata
2. R.E.M.F
3. Slipping Into Madness
4. Elitist
5. Prescribing Horror
6. The Beatings Will Continue (Until Morale Improves)
7. The Years Of Death And Dying
8. Clickbait
9. Cosa Del Pantano
10. Lunatic-Liar-Lord
11. The Fires Of Division
12. Antiseed
2020 is set to be an unforgettable year for British and European thrash metal-heads – three legendary pioneers of the genre have announced that they will be touring throughout next spring. Hitting the road will be no other than the Bay Area's very own TESTAMENT, EXODUS and DEATH ANGEL – who have all teamed up to bring the catchily dubbed 'The Bay Strikes Back' tour to our shores!

TESTAMENT's Chuck Billy commented:
"It's finally happening!!!! All of us have spoken over the years of how killer it would be to tour together and bring Bay Area Thrash Metal across the world and we are starting in Europe. I'm sure I can speak for all three bands in saying that we are proud of where we all came from and we are still delivering some of the best thrash metal we can to the fans. Be ready for the Bay Area Strikes Back Tour 2020."
And Gary Holt from EXODUS:
"I am fired up to FINALLY return to Europe with Exodus! Along with our Bay Area friendsTestament and Death Angel! An epic tour for the ages! Looking forward to crushing everyone Bay Area style! See you there!!! I cannot wait!"

DEATH ANGEL's Rob Cavestany added:
"We couldn't be more excited to announce our upcoming tour with Testament andExodus! Bay Area Thrash Attack in full force! All three bands have been close friends for decades and our mutual respect is of the highest level. That said, we will surely push each other to go beyond expectations each and every night. This is a first – the three of us have never toured together in the same package… it's about time! See you in the pit!"

Both TESTAMENT and EXODUS are currently working on the follow-up to their 2016 (TESTAMENT – Brotherhood Of The Snake) and 2014 (EXODUS – Blood In, Blood Out) albums, while DEATH ANGEL will be touring in support of their most recent record, 2019'sHumanicide.

UK shows will go on sale this Friday 2nd August @ 10am BST via the below links!

THE BAY STRIKES BACK TOUR 2020
TESTAMENT | EXODUS | DEATH ANGEL
06.02.2020 DK Copenhagen, Amager Bio
07.02.2020 SE Stockholm, Arenan Fryshuset
10.02.2020 FI Helsinki, The Circus
11.02.2020 FI Tampere, Pakkahuone
13.02.2020 DE Hamburg, Docks
14.02.2020 DE Oberhausen, Turbinenhalle
15.02.2020 DE Wiesbaden, Schlachthof
16.02.2020 NL Utrecht, Tivoli
18.02.2020 DE Berlin, Huxleys
19.02.2020 PL Wroclaw, Orbita Hall
20.02.2020 AT Vienna, Arena
21.02.2020 DE Munich, Backstage
22.02.2020 DE Filderstadt, Filharmonie
25.02.2020 IT Milano, Live Club
27.02.2020 ES Barcelona, Razzmatazz
28.02.2020 ES Madrid, Palacio Vistalegre
29.02.2020 FR Toulouse, Bikini
01.03.2020 FR Paris, Elysee Montmartre
03.03.2020 UK Bristol, O2 Academy
04.03.2020 IE Dublin, National Stadium
06.03.2020 UK London, The Forum
07.03.2020 UK Manchester, Academy
08.03.2020 UK Glasgow, Barrowland
10.03.2020 BE Brussels, AB
11.03.2020 DE Hannover, Capitol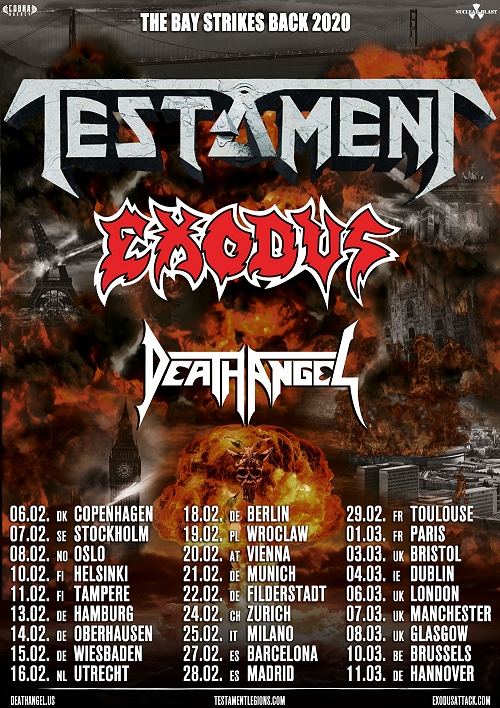 For all of you in Europe and the U.K., here is a chance to pick up some Exodus merchandise that was left over from the Headbanger's Ball Tour. We also have some other cool items as well. As always, keep an eye out, there will be some exclusive merchandise coming soon!!!
https://eu.kingsroadmerch.com/exodus
U.K. store:
https://uk.kingsroadmerch.com/exodus
EUROPEAN store: