For Immediate Release
October 14, 2014
EXODUS Unleashes Highly-Anticipated New Album "Blood In, Blood Out" Today via Nuclear Blast
Gary Holt Discusses New Partnership with ESP + New Signature Guitar
Blood In, Blood Out, the brand new album by EXODUS that Yahoo Music calls, "one of the most anticipated heavy metal records of the year", has been unleashed to the word today via Nuclear Blast. Pick up a copy of the album at your local music retailers. Produced by Andy Sneap (ACCEPT, KREATOR, MEGADETH), Blood In, Blood Out can be ordered from the Nuclear Blast USA Webshop in CD, digi-pak + bonus DVD, 2-LP exclusive yellow vinyl, and imported limited edition box set formats. The album can also be purchased via iTunes, Google Play and Amazon.
"This entire band could not be more proud and excited for this record to hit the US like an atom bomb," states guitarist Gary Holt. "D-Day is upon us, time to go to war!"
"We're so excited for this release," adds vocalist Steve "Zetro" Souza. "I think it's the best effort that I've ever given vocally. If you love what EXODUS has done over the past 30 years, you're really going to love Blood In, Blood Out, so go pick this shit up and will see you out there on tour live!"
Critics have had nothing but tremendously positive things to say about Blood In, Blood Out – which is being considered a return to form by many.
"Pared down to a simple sentence, this album is fucking sick," chimed the first web review for the record, penned by Blabbermouth's Ray Van Horn, Jr. Shortly after, Decibel Magazine's Kevin Stewart Panko gave great praise to both returning vocalist Steve "Zetro" Souza and guitarists Gary Holt and Lee Altus, saying tracks on the record feature, "Sousa spitting forth from a venomous thesaurus and some of the most adventurous lead work that Holt and Altus have ever recorded." The EXODUS rhythm section receives equal praise from About.com Heavy Metal's Dave Schalek, who states, "[Tom] Hunting shows no signs of slowing down and bassist Jack Gibson anchors down the album's bottom heavy sound."
"EXODUS deliver the definite lesson in violence," adds Rue Morgue's Aaron Lupton, while Outburn Magazine offered positive remarks in both review and feature form. "A vintage thrash metal voice placed on top of an EXODUS sound again harnessed to perfection by Andy Sneap has resulted in an album that batters the eardrums as effectively as it boils the blood," remarks Scott Alisoglu. The most recent stellar-rating review comes from New Noise Magazine, in which Brandon Ringo states, "Once again, EXODUS has proven exactly why they have attained such a legendary stature over the years and are considered one of the greatest bands in thrash metal even 30 years later!"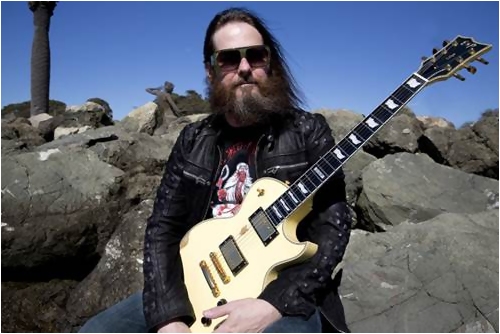 EXODUS guitarist Gary Holt recently announced that he has officially joined the ESP Guitars' acclaimed artist endorsement roster, just in time for the release of Blood In, Blood Out!
"I am way beyond excited to announce my return to the mighty ESP!" said Holt. "The new guitars are amazing, and I can't wait to unleash the new signature model on the world! It's gonna be a sick shred machine with that crushing tone ESP has been long known for! Can't wait to let this beast roar!"
Metallica guitarist Kirk Hammett, an early bandmate and decades-long friend of Holt (and celebrated guest soloist on Blood In, Blood Out) commented, "Gary has influenced a whole generation of metal guitarists with his wicked riffs and leads in EXODUS. I'm happy that he's jumped on for the ESP ride!"
ESP's director of artist relations Chris Cannella says, "I am so proud to have Gary onboard at ESP. Not only is he one of the best players in metal… he created thrash metal!"
To learn more, visit http://www.espguitars.com.