For Immediate Release
September 3, 2014
EXODUS Reveal Special Guests on New Album BLOOD IN, BLOOD OUT
Special Guest Appearances Include Kirk Hammett (Metallica), Chuck Billy (Testament), and Dan the Automator (Gorillaz, Mike Patton)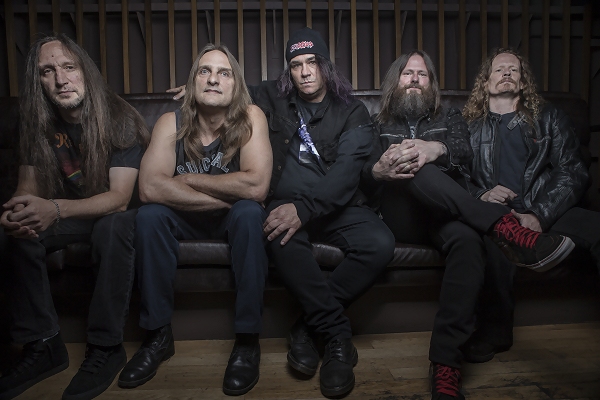 New studio album due out October 14 via Nuclear Blast
VIP Packages available for fall tour with SLAYER and Special Guests SUICIDAL TENDENCIES
Bay Area thrash metal provocateurs EXODUS proudly announce the special guests appearing on their latest showcase of unrefined rage Blood In, Blood Out, the band's tenth studio album due out on October 14th in North America.
Crafting an industrial sound bed on the intro to the album opener "Black 13" is electronic music producer Dan the Automator (GORILLAZ, MIKE PATTON, DELTRON 3030).
"We ran into each other a couple times," shares EXODUS guitarist & songwriter Gary Holt. "I knew what I wanted to hear and I knew he could do it, and could do it that day. So we sent him a file with the drums and guitars we already had there and just told him to go crazy with it."
TESTAMENT frontman Chuck Billy lends his signature roar to the track "BTK," one of the first songs recorded byreturning vocalist Steve "Zetro" Souza, who recently said, "Chuck and I have known each other forever. We work really well together, we know each other really well. So if I'm doing my vocals and he's there, I can trust him to go 'No wayZet, doesn't sound good like that. Do it like this,' or 'Yeah that's killer.' If he says it sounds killer, I know it is."
Original Exodus guitarist Kirk Hammett (METALLICA) contributed a solo to "Salt The Wound."
"This was actually the first time Kirk got to play on an official EXODUS release," states Holt.  "He did the early demo, and then joined Metallica and didn't do anything with us after that. So he was totally gung-ho about it. He came down and ripped out a bunch of takes and we picked the best one and then had a barbecue and drank beer."
"It felt really casual, really cool – just like it did back in 1980 when we were all just hanging out back in the day," Hammett confessed to RollingStone.com in July.