king parrot
We're stoked to be playing the Bang Your Head Luxembourg Festival 2016 on November 26th! Check out the following links for more info:
BYH Festival Page:
https://www.facebook.com/BangYourHeadLuxembourgFestival
BYH Festival Event:
https://www.facebook.com/events/294767264197892/
Event on Venue Homepage:
http://kulturfabrik.lu/en/program/details/event/bang-your-head-vol-10/
Ticket links:
http://kulturfabrik.lu/en/tickets/
Updated flyer: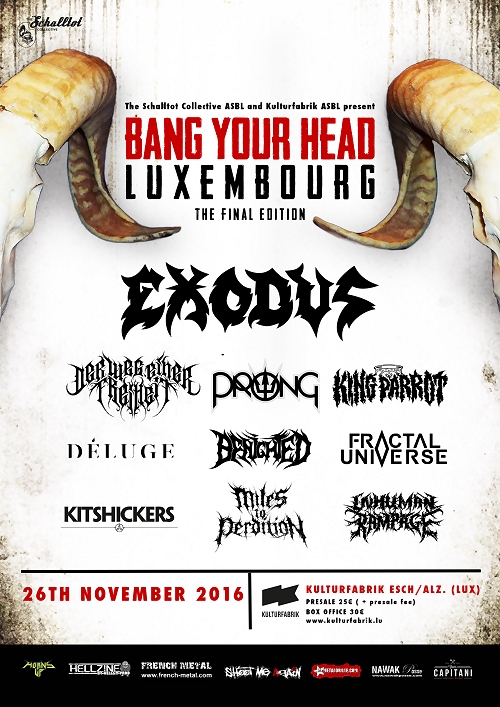 Here's a promo clip for the Battle Of The Bays European Tour 2016 kicking off in October!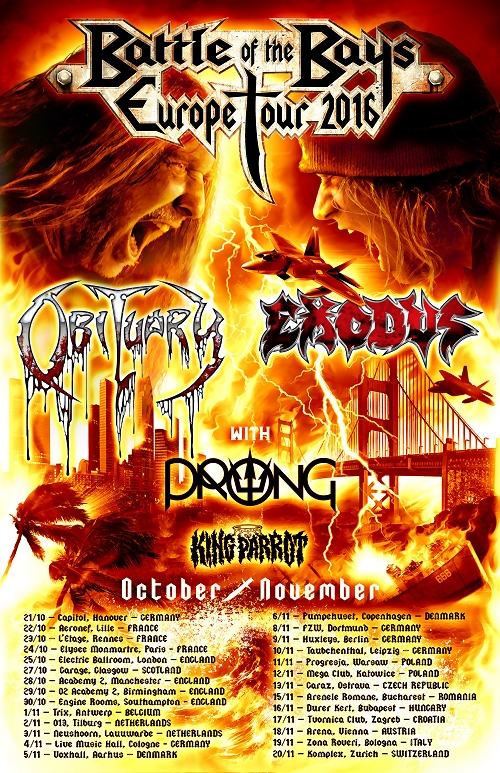 Dates added for Exodus with Guests Prong + King Parrot in Europe!
21 Nov 2016 France, Besancon @ La Rodia
22 Nov 2016 Germany, Munich @ Backstage
23 Nov 2016 Germany, Schweinfurt @ Stattbahnhof
24 Nov 2016 Germany, Bremen @ Aladin
Metal heads all over Europe have waited for a tour of this magnitude, Obituary, Exodus, Prong, and King Parrot, this one will be talked about for years to come!!! Battle of the Bays!!! I can guarantee Exodus will be ready for battle!!! See you in the pit!!!
Dates added:
21 Oct 2016 Germany, Hannover @ Capitol
01 Nov 2016 Belgium, Antwerp @ Trix
02 Nov 2016 Netherlands, Tilburg @ O13
03 Nov 2016 Netherlands, Leeuwarden @ Neushoorn
04 Nov 2016 Germany, Cologne @ Live Music Hall
08 Nov 2016 Germany, Dortmund @ FZW
09 Nov 2016 Germany, Berlin @ Huxleys
10 Nov 2016 Germany, Leipzig @ Taubchenthal
13 Nov 2016 Czech Republic, Ostrava @ Garaz
18 Nov 2016 Austria, Vienna @ Arena
19 Nov 2016 Italy, Bologna @ Zona Roveri
20 Nov 2016 Switzerland, Zurich @ Komplex