Please note that The Forum keeps box office hours and free parking on site for face value tickets Tuesdays through Thursdays, 11am to 7pm.
Scion Presents: Slayer, Suicidal Tendencies, & Exodus at The Forum (Inglewood) on November 14th, 2014.
For tickets go to: Ticketmaster
Exodus Confirmed for Kirk Von Hammett's Fear FestEvil After Party
Metallica Guitarist & Exodus to perform together in San Diego on July 25th!
More info at: http://www.fearfestevil.com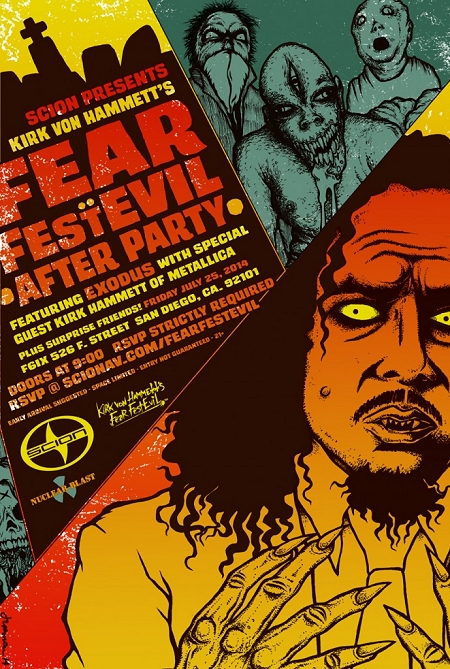 For Immediate Release
June 26, 2014
EXODUS Announces Exclusive VIP Packs in Conjunction with Upcoming Scion-Presented SLAYER Tour w/ Special Guests SUICIDAL TENDENCIES and EXODUS
New Album "Blood In Blood Out" – Out this Fall via Nuclear Blast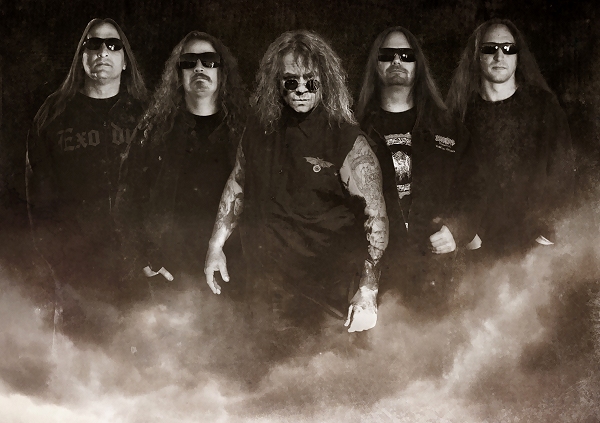 This fall, Bay Area thrash legends EXODUS will support fellow metal titans Slayer and Suicidal Tendencies on the Scion-sponsored fall leg of their United States onslaught. The tour begins on November 12th in Oakland, CA at The Fox Theater and will tour throughout the states, coming to close in Detroit, MI at The Fillmore on December 5th. Tickets go on sale to the public this Friday, June 27th at 10:00AM (local time).
"This monumental tour is a heavy metal collision of epic proportions! For my first tour back with EXODUS, I'm beyond excited to be on the road with my brothers in true thrash metal! I'm also looking forward to meeting and hanging out with all of the fans on this heavy as hell tour," states newly returning vocalist Zetro.
Due to an overwhelmingly positive response, EXODUS is making VIP experience packages available for the entire tour.  Fans are encouraged to get them as soon as possible, as VIP package sales will close seven days prior to each show day. To purchase VIP packages via SLOtix.com – click *here*.
EXODUS MEET & GREET PACKAGE
Package to include:
– One Premium Reserved ticket OR One General Admission Ticket with early entry to venue
– Meet & Greet with select members of EXODUS
– Autographed EXODUS Poster
– EXODUS tour T-Shirt
– Collectible EXODUS laminate to remember your evening
– Coupon for 25% discount at the online EXODUS merchandise store
– Onsite check-in staff
Attendees will be included in a giveaway for an autographed Gary Holt signature guitar or EXODUS guitar (at the end of the tour, Gary Holt will personally call the winner himself to announce that they've won!)
Adds Gary Holt, guitarist for EXODUS and filling in for Slayer's fallen guitarist Jeff Hanneman, "After the way incredible and seriously awesome but short run with Suicidal Tendencies and the mighty Slayer, EXODUS are happy to once again be a part of this lineup, only this time… I get to kick my own ass with the double duty madness for a full tour! Insanity? Of course it is! Is it worth it? You fucking know it! Looking forward to this one in a big, big way! Last tour couldn't have gone any better, and this tour will prove to be more of the over-the-top awesome level of metal as the last run, but now only bigger and more intense! See you there!"
EXODUS w/ Slayer & Suicidal Tendencies
11/12 – Oakland, CA @ The Fox Theater
11/14 – Inglewood, CA @ The Forum
11/15 – Phoenix, AZ @ Comerica Theatre
11/17 – Oklahoma City, OK @ Coca Cola Bricktown Events Venter
11/18 – Austin, TX @ ACL Live at the Moody Theater
11/19 – Grand Prairie, TX (Dallas) @ Verizon Theatre at Grand Prairie
11/21 – Orlando, FL @ Hard Rock Café/Hard Rock Live
11/22 – Atlanta, GA @ The Tabernacle
11/23 – Charlotte, NC @ The Fillmore
11/25 – Albany, NY @ Washington Avenue Armory
11/26 – Bethlehem, PA @ Sands Bethlehem Event Center
11/28 – Worcester, MA @ The Palladium
11/29 – Montclair, NJ @ Wellmont Theatre
11/30 – Upper Darby, PA (Philadelphia) @ Tower Theater
12/2 – Cleveland, OH @ Agora Theatre
12/4 – Indianapolis, IN @ Egyptian Room at Old National Centre
12/5 – Detroit, MI @ The Fillmore Detroit
Stay tuned for more information on the brand new album from EXODUS, entitled Blood In Blood Out, hitting stores on this fall via Nuclear Blast.
FOR IMMEDIATE RELEASE
June 23, 2014
SCION TO PRESENT SLAYER'S FALL 2014 U.S. TOUR
A Merciless, Head-banging Onslaught
That Will Feature Special Guests Suicidal Tendencies and Exodus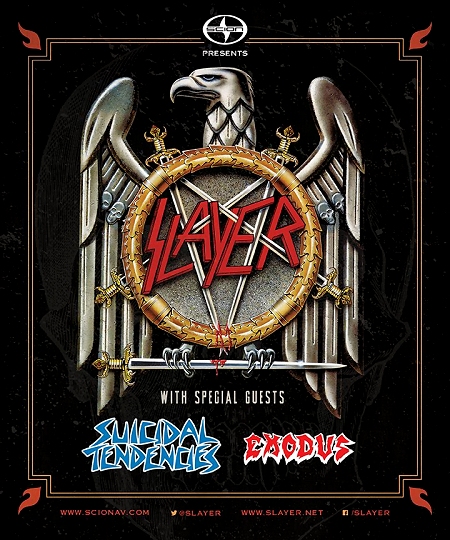 LOS ANGELES, CA – Monday, June 23, 2014 — When Slayer, Suicidal Tendencies and Exodus played a handful of dates together this past May, every date was sold out and fans experienced a night of some of the best metal on the planet. With reviews like "the best show in years that I've been blessed to witness," "a metalhead's dream come true," and "…an onslaught of heart-pounding tunes during an evening full of awesome head banging action," how could this trinity of thrash legends not join up again for a full-on road trip? So, with Scion proudly presenting, Slayer – Kerry King/guitars, Tom Araya/bass, drummer Paul Bostaph and guitarist Gary Holt who continues to fill in for fallen Slayer guitarist Jeff Hanneman – and special guests Suicidal Tendencies and Exodus, will hit the road this fall, kicking off November 12 in Oakland, CA, playing through to December. 5 in Detroit, MI. The confirmed itinerary is below.
Slayer fan club members are invited to take advantage of a ticket pre-sale that will begin this Wednesday, June 25 at 10AM (local time) and ends on Thursday, June 26 at 5:00PM (local time). Fan club members will receive an email with instructions for ticket purchasing. Tickets go on sale to the public this Friday, June 27 at 10:00AM (local time) – log onto www.slayer.net for all ticket purchasing details.
Said Slayer's Tom Araya, "We are way fucking excited about hitting the road again with Suicidal and Exodus. Fucking intense. See you in the fall."
Added Mike Muir, Suicidal Tendencies' vocalist, "Slayer, Suicidal Tendencies and Exodus, for only six shows? They were a blast, but everyone knew that wouldn't be enough. Now's your chance to see what everyone else was screaming about. ST definitely can't wait 'til November to do it all again!"
"This monumental tour is a heavy metal collision of epic proportions," added Exodus vocalist Steve 'Zetro' Souza who has just rejoined the band. "For my first tour back with Exodus, I'm beyond excited to be on the road with my brothers in true thrash metal! I'm also looking forward to meeting and hanging out with all of the fans on this heavy as hell tour."-
Confirmed dates are as follows:
NOVEMBER
12 Fox Theatre, Oakland, CA
14 The Forum, Los Angeles, CA
15 Comerica Theatre, Phoenix, AZ
17 Bricktown Events Center, Oklahoma City, OK
18 ACL Live, Austin, TX
19 Verizon Theatre, Dallas, TX
21 Hard Rock Live, Orlando, FL
22 The Tabernacle, Atlanta, GA
23 The Fillmore, Charlotte, NC
25 The Armory, Albany, NY
26 Sands Events Center, Bethlehem, PA
28 The Palladium, Worcester, MA
29 Wellmont Theatre, Montclair, NJ
30 Tower Theatre, Philadelphia, PA
DECEMBER
2 Agora Theatre, Cleveland, OH
4 Egyptian Room, Indianapolis, IN
5 The Fillmore, Detroit, MI
For Immediate Release
June 9, 2014
Original Thrash Metal Architects EXODUS Get Back to Their Roots – Steve "Zetro" Souza is Back!
New Album Coming Late 2014 via Nuclear Blast
EXODUS – the originators of the thrash metal genre – return to their roots. As announced yesterday via Loudwire, EXODUS proudly welcomes the return of frontman Steve "Zetro" Souza in the wake of former vocalist Rob Dukes' amicable departure. Souza originally fronted EXODUS from 1986-1993, and again from 2002-2004, donning the mic on classic records like Pleasures of the Flesh, Fabulous Disaster, Impact is Imminent, Good Friendly Violent Fun, and Force of Habit. Souza also appeared on 2004's Tempo of the Damned.
In a statement, guitarist Gary Holt says, "As a band, we all had to make a very difficult choice to part ways with Rob Dukes. We have nothing but love and admiration for him and the deepest gratitude for the hard work he has put in and the great work on some killer records. But at this time, Tom, Lee, Jack and myself thought a change was necessary and the unanimous choice going forward was to welcome back Steve Souza to the fold!"
Returning vocalist Steve "Zetro" Souza adds, "I spent a great part of my life with EXODUS, that blood flows through me, even not being in the band for the past 10 years, you can't erase that chemistry. I'm very excited!"
EXODUS are currently working on their eleventh studio album in Northern California with producer Andy Sneap, set to release later this year with Nuclear Blast. Things are moving along smoothly… stay tuned for more details coming soon.
On August 10th, EXODUS will perform at Heavy Montreal at Parc Jean-Deapeau in Montreal, QC with Slayer, Lamb of God, Hatebreed and more. The band will also appear on select international dates in Germany, Belgium and Columbia this summer, and will pick back up in South America in October. See below for a full listing of current dates.
EXODUS INTERNATIONAL DATES:
7/11 – Balingen, Germany @ Bang Your Head Festival
7/12 – Antwerp, Belgium @ Antwerp Metal Festival
8/10 – Montreal, QC @ Parc Jean-Drapeau – Heavy Montreal
8/16 – Bogota, Columbia @ Rock al Parque
10/1 – Belem, Brazil @ Botequim
10/3 – Manaus, Brazil @ Arena Aparecida
10/4 – Sao Paulo, Brazil @ Carioca Club
10/5 – Porto Alegre @ Opiniao
10/7 – Asuncion, Paraguay @ Kop Town
10/9 – Buenos Aires, Argentina @ Groove
10/11 – Santiago, Chile @ Club Kmasu Premier
10/12 – Antofagasta, Chile @ TBC
10/14 – Lima, Peru @ Centrica
10/16 – San Jose, Costa Rica @ Pepper's
10/18 – Mexico City, Mexico @ Circo Volador
Visit EXODUS online at www.EXODUSATTACK.com.
Like: www.facebook.com/EXODUSATTACK
Follow: Twitter.com/_EXODUS
Watch: www.YouTube.com/EXODUS
Visit EXODUS online at www.EXODUSATTACK.com.
Like: www.facebook.com/EXODUSATTACK
Follow: Twitter.com/EXODUSATTACK
Watch: www.YouTube.com/EXODUS