UPDATE: James Evans, the Kentucky man who was arrested for posting lyrics from Exodus' song "Class Dismissed" will not be facing criminal charges. The court threw out the terrorist threat charge against Evans. You can read the article below:
For Immediate Release
October 27, 2014
EXODUS Premieres Brand New "Blood In, Blood Out" Music Video via Revolver Magazine
Watch it Here: http://smarturl.it/exodus-bibo-premiere
Catch EXODUS on Tour with SLAYER and SUICIDAL TENDENCIES Next Month!
"Blood In, Blood Out" Lands at #38 on Billboard Top 200 – OUT NOW via Nuclear Blast
Bay Area thrash titans EXODUS are celebrating Blood In, Blood Out's stellar Top 40 Billboard debut with the release of their brand new music video for the title track 'Blood In, Blood Out', directed by Shan Dan Horan of the Shadow Born Group (Buckcherry, Carnifex, Winds of Plague). The video features hundreds of dedicated Bay Area fans that came out in droves to perform as extras in the video after a wide casting call. Check out the video now, exclusively via Revolver Magazine: http://smarturl.it/exodus-bibo-premiere
"'Blood In, Blood Out' was exactly the kind of video we wanted and needed to make… unbridled energy, violence, blood and our Bay Area friends and family at the center of attention! Just as they should be," states EXODUS guitarist Gary Holt. "I hate making videos and this one was so much fun, I actually caught myself saying things I never would say before! 'Let's run through it again!'"
EXODUS vocalist Steve "Zetro" Souza adds, "Typical and sheer violence, straight up aggressive and in your fucking face! Watching this video kind of reminds me of Fight Club, but awesome action and awesome violence, perfect for the title track of the new EXODUS album 'Blood In, Blood Out'!"
"Directing this music video has been a pleasure. Having the task to find hundreds of metal heads to fill up a dark room with very limited time seemed like a tough task," begins director Shan Dan Horan. "What I found however, was an overwhelming response from some of the most positive and energetic fans I've ever met. I feel honored to have played a small role in that. Old metalheads, young ones, to even a guy that showed up in his wheelchair. The fact of the matter is everyone was accepted and everyone picked up their brethren when they would fall in the pit. To me that's what 'Blood In, Blood Out' is about. While we all come from different backgrounds – once a metal head, always a metal head. That's something that stays in your blood."
For Immediate Release
October 22, 2014
New Exodus Album "Blood In, Blood Out" Secures #38 First Week Debut on Billboard Top 200 Charts
#2 Hard Rock/Metal + #6 Independent Billboard Charts
Catch EXODUS on Tour with SLAYER and SUICIDAL TENDENCIES Next Month!
"Blood In, Blood Out" OUT NOW via Nuclear Blast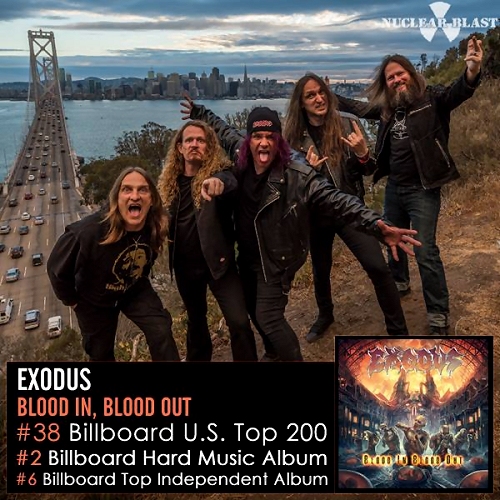 Bay Area thrash titans EXODUS are pleased to announce that their brand new album, Blood In, Blood Out, has charted at #38 on the U.S. Billboard Top 200 charts in its first week! This comes in at a staggering 76 charting spots higher and nearly double the sales above the band's last release in 2010. This concretes Blood In, Blood Out's status as the band's highest-charting album to date! The new album also is charting at #2 on the Hard Rock/Metal charts and #6 on the Independent charts.
Blood In, Blood Out has also debuted at #29 in Germany, #30 in Finland, #30 in Switzerland, #38 in Austria, #38 in the Czech Republic, #72 in the UK, #75 in France, #85 in the Netherlands, and #101 overall, #86 on Top Current Albums, and #6 on Hard Music charts in Canada. This includes some territories that EXODUS has never charted in before!
These numbers come as no surprise, as Blood In, Blood Out has been praised by critics and fans alike as one of the best EXODUS albums of all time! In fact, Yahoo Music calls Blood In, Blood Out, "one of the most anticipated heavy metal records of the year", and Rolling Stone calls the band "among the first and best" of thrash metal and touts the album as "recommended".
EXODUS lead vocalist Steve "Zetro" Souza states, "I'm very stoked and excited to see that EXODUS has charted at #38. This band being around over 30 years and being on our 10th album, this is truly amazing. I'm excited for our management, I'm excited for our record label, I'm excited for our booking agency, and I'm excited for everyone else in the staff. I'm mostly excited for all of our fans who have supported us over the years through thick and thin – I'm glad you're all still here. We're all very proud to have you as our fans, and when you come out to see us live, we will not disappoint you. You are truly our inspiration and we will keep doing this for as long as we can bang out heads. Thanks everyone."
"EXODUS could not be any more excited about the awesome chart positions Blood In, Blood Out has achieved," adds EXODUS guitarist Gary Holt. "This is in many ways a milestone record for us, and for it to be so embraced by the metal world is quite simply amazing! We worked our asses off and people have responded in a way we only dreamed of! Thanks to all our fans for making this happen!"
EXODUS co-manager Maria Ferrero of Breaking Bands LLC and Adrenaline PR states, "Breaking records… breaking barriers… on behalf of Breaking Bands LLC I am proud to see EXODUS, my long-time friends of 31 years get the recognition that they deserve. To finally see Kirk Hammett record with his first band is just the icing on the cake. The team kicked ass. The reviews have been amazing and the fans stepping up to take action with their unwavering support speaks volumes. The fans don't lie! This is a great day for thrash metal. It is my honor to protect, promote and support such an iconic band."
EXODUS co-manager at Breaking Bands LLC and Testament vocalist Chuck Billy adds, "The Breaking Bands LLC team is very proud to be a part of the success of the new EXODUS album Blood In, Blood Out. The band has worked very hard to deliver a monster of a record that is shaking up the metal community. We would like to congratulate the band and wish them continued success on their world domination. They should be very proud of their accomplishment for kicking the door down in a declining music industry. Great job, boys. Let the EXODUS Attack begin."
Exodus sends their deepest sympathy to the loved ones of their fan Gustavo Molina who died shortly after their show in Buenos Aires Argentina on October 13, 2014.
The band was informed of the tragic incident which occurred after the Buenos Aires show by the show promoter. The promoter conveyed to the band that towards the end of the show a young man collapsed, and lost consciousness. He was brought outside and was treated at the ambulance's car, but despite CPR and heart injections, unfortunately, he passed away at the ambulance. Exodus wishes to express their  thoughts  to  the  family at this difficult time.
Facebook: Gustyce PurpleBlack Gustavson
He was in a band called Kronos Thrash (https://www.facebook.com/kronos.thrash)
For Immediate Release
October 14, 2014
EXODUS Unleashes Highly-Anticipated New Album "Blood In, Blood Out" Today via Nuclear Blast
Gary Holt Discusses New Partnership with ESP + New Signature Guitar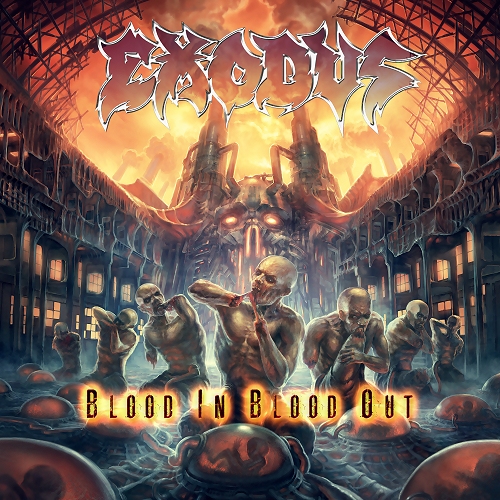 Blood In, Blood Out, the brand new album by EXODUS that Yahoo Music calls, "one of the most anticipated heavy metal records of the year", has been unleashed to the word today via Nuclear Blast. Pick up a copy of the album at your local music retailers. Produced by Andy Sneap (ACCEPT, KREATOR, MEGADETH), Blood In, Blood Out can be ordered from the Nuclear Blast USA Webshop in CD, digi-pak + bonus DVD, 2-LP exclusive yellow vinyl, and imported limited edition box set formats. The album can also be purchased via iTunes, Google Play and Amazon.
"This entire band could not be more proud and excited for this record to hit the US like an atom bomb," states guitarist Gary Holt. "D-Day is upon us, time to go to war!"
"We're so excited for this release," adds vocalist Steve "Zetro" Souza. "I think it's the best effort that I've ever given vocally. If you love what EXODUS has done over the past 30 years, you're really going to love Blood In, Blood Out, so go pick this shit up and will see you out there on tour live!"
Critics have had nothing but tremendously positive things to say about Blood In, Blood Out – which is being considered a return to form by many.
"Pared down to a simple sentence, this album is fucking sick," chimed the first web review for the record, penned by Blabbermouth's Ray Van Horn, Jr. Shortly after, Decibel Magazine's Kevin Stewart Panko gave great praise to both returning vocalist Steve "Zetro" Souza and guitarists Gary Holt and Lee Altus, saying tracks on the record feature, "Sousa spitting forth from a venomous thesaurus and some of the most adventurous lead work that Holt and Altus have ever recorded." The EXODUS rhythm section receives equal praise from About.com Heavy Metal's Dave Schalek, who states, "[Tom] Hunting shows no signs of slowing down and bassist Jack Gibson anchors down the album's bottom heavy sound."
"EXODUS deliver the definite lesson in violence," adds Rue Morgue's Aaron Lupton, while Outburn Magazine offered positive remarks in both review and feature form. "A vintage thrash metal voice placed on top of an EXODUS sound again harnessed to perfection by Andy Sneap has resulted in an album that batters the eardrums as effectively as it boils the blood," remarks Scott Alisoglu. The most recent stellar-rating review comes from New Noise Magazine, in which Brandon Ringo states, "Once again, EXODUS has proven exactly why they have attained such a legendary stature over the years and are considered one of the greatest bands in thrash metal even 30 years later!"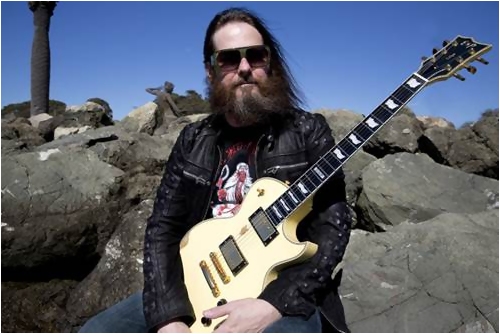 EXODUS guitarist Gary Holt recently announced that he has officially joined the ESP Guitars' acclaimed artist endorsement roster, just in time for the release of Blood In, Blood Out!
"I am way beyond excited to announce my return to the mighty ESP!" said Holt. "The new guitars are amazing, and I can't wait to unleash the new signature model on the world! It's gonna be a sick shred machine with that crushing tone ESP has been long known for! Can't wait to let this beast roar!"
Metallica guitarist Kirk Hammett, an early bandmate and decades-long friend of Holt (and celebrated guest soloist on Blood In, Blood Out) commented, "Gary has influenced a whole generation of metal guitarists with his wicked riffs and leads in EXODUS. I'm happy that he's jumped on for the ESP ride!"
ESP's director of artist relations Chris Cannella says, "I am so proud to have Gary onboard at ESP. Not only is he one of the best players in metal… he created thrash metal!"
To learn more, visit http://www.espguitars.com.