Videos
Exodus is back from Japan and getting prepared for their last headlining tour in North America for a while, so don't miss them with Municipal Waste on the Mr. Pickles tour!
2/22/2018 Neumos – Seattle, WA
Tickets: bit.ly/MrPicklesNeumos
2/23/2018 Hawthorne Theatre – Portland, OR
Tickets: bit.ly/MrPicklesHawthorne
2/25/2018 The Regency Ballroom – San Francisco, CA
Tickets: bit.ly/MrPicklesRegency
2/26/2018 House of Blues Anaheim – Anaheim, CA
Tickets: bit.ly/MrPicklesHOBAnaheim
2/27/2018 House of Blues San Diego – San Diego, CA
Tickets: bit.ly/MrPicklesHOBSanDiego
3/01/2018 Metro Music Hall – Salt Lake City, UT
Tickets: bit.ly/MrPicklesMetroMH
3/02/2018 The Summit Music Hall – Denver, CO
Tickets: bit.ly/MrPicklesSummitMH
3/04/2018 Bottom Lounge – Chicago, IL
Tickets: bit.ly/MrPicklesBottomLounge
3/05/2018 Spirit Hall – Pittsburgh, PA
Tickets: http://www.ticketmaster.com/event/16005437A34B2E32
3/06/2018 Rock & Roll Hotel DC – Washington, D.C.
Tickets: bit.ly/MrPicklesRockandRollHotel
3/07/2018 Irving Plaza – New York, NY
Tickets: bit.ly/MrPicklesIrvingPlaza
3/08/2018 Theatre of Living Arts – Philadelphia, PA
Tickets: bit.ly/MrPicklesTLA
3/09/2018 The National – Richmond, VA
Tickets: bit.ly/MrPicklesTheNational
3/10/2018 The Masquerade – Atlanta, GA
Tickets: bit.ly/MrPicklesMasquerade
3/11/2018 The Parrish at HOB- New Orleans, LA
Tickets: http://www.ticketmaster.com/event/1B005437C4CF7F47
Here's a promo clip for the Battle Of The Bays European Tour 2016 kicking off in October!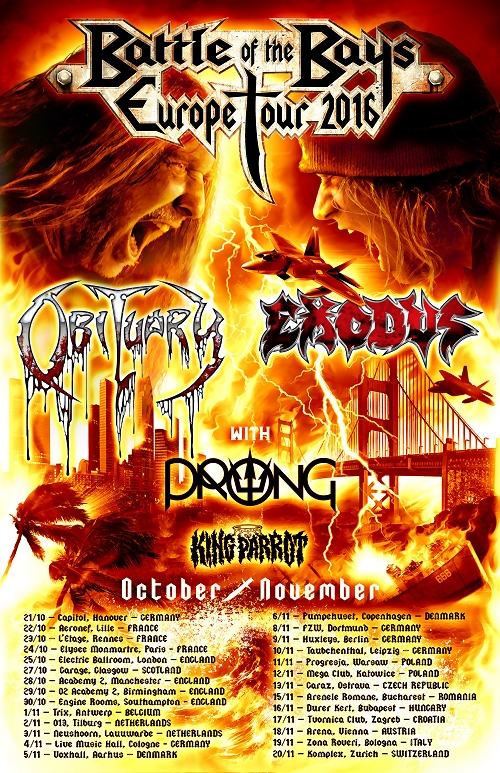 For Immediate Release
October 27, 2014
EXODUS Premieres Brand New "Blood In, Blood Out" Music Video via Revolver Magazine
Watch it Here: http://smarturl.it/exodus-bibo-premiere
Catch EXODUS on Tour with SLAYER and SUICIDAL TENDENCIES Next Month!
"Blood In, Blood Out" Lands at #38 on Billboard Top 200 – OUT NOW via Nuclear Blast
Bay Area thrash titans EXODUS are celebrating Blood In, Blood Out's stellar Top 40 Billboard debut with the release of their brand new music video for the title track 'Blood In, Blood Out', directed by Shan Dan Horan of the Shadow Born Group (Buckcherry, Carnifex, Winds of Plague). The video features hundreds of dedicated Bay Area fans that came out in droves to perform as extras in the video after a wide casting call. Check out the video now, exclusively via Revolver Magazine: http://smarturl.it/exodus-bibo-premiere
"'Blood In, Blood Out' was exactly the kind of video we wanted and needed to make… unbridled energy, violence, blood and our Bay Area friends and family at the center of attention! Just as they should be," states EXODUS guitarist Gary Holt. "I hate making videos and this one was so much fun, I actually caught myself saying things I never would say before! 'Let's run through it again!'"
EXODUS vocalist Steve "Zetro" Souza adds, "Typical and sheer violence, straight up aggressive and in your fucking face! Watching this video kind of reminds me of Fight Club, but awesome action and awesome violence, perfect for the title track of the new EXODUS album 'Blood In, Blood Out'!"
"Directing this music video has been a pleasure. Having the task to find hundreds of metal heads to fill up a dark room with very limited time seemed like a tough task," begins director Shan Dan Horan. "What I found however, was an overwhelming response from some of the most positive and energetic fans I've ever met. I feel honored to have played a small role in that. Old metalheads, young ones, to even a guy that showed up in his wheelchair. The fact of the matter is everyone was accepted and everyone picked up their brethren when they would fall in the pit. To me that's what 'Blood In, Blood Out' is about. While we all come from different backgrounds – once a metal head, always a metal head. That's something that stays in your blood."
For Immediate Release
October 8, 2014
EXODUS: Guitar World Premieres Fifth Bonus DVD Trailer
• Blood In, Blood Out CD + Bonus DVD due out October 14th via Nuclear Blast •

[Photo by Bruce Getty]
• iTunes Pre-Orders Get "Salt The Wound" & "Blood In, Blood Out" Instant Grat Tracks •
• View Behind-The-Scenes Photos from the "Blood In, Blood Out" Music Video Shoot •
• Try the EXODUS BURGER at the Official "Blood In, Blood Out" Listening Party @ Kumas Corner on Saturday, October 11th in Chicago •
In the fifth & final exclusive trailer on GUITAR WORLD.com that showcases material from the bonus "Making Of" DVD entitled "Blood Upon The Goat," EXODUS drummer Tom Hunting gives fans a tour of his "Goats-R-Us Ranch & Studios" where the band's tenth studio album Blood In, Blood Out album was recorded.
"We took a little bit different approach to the recording of the drums this time," shares Hunting. "We wanted a real drum room with live mics to have that ambient room tone."
Watch the last trailer (and hear about Tom's über-Satanic goats!) here: http://www.guitarworld.com/exodus-discuss-making-new-album-blood-blood-out-part-5-drummer-tom-hunting-exclusive-video
While on the web, check out exclusive behind-the-scenes photos from the EXODUS "Blood In, Blood Out" music video shoot via New Noise Magazine. The music video shoot took place in the band's hometown of Oakland, CA last month at Soundwave Studios – the official rehearsal space of EXODUS! The video is scheduled to be released soon. Take a look at the photos here: http://newnoisemagazine.com/exclusive-photos-behind-the-scenes-exodus-music-video/
*Chicago-area EXODUS fans!* Enjoy tasty new licks and the tasty new "EXODUS Burger" at Kumas Corner in Chicago, IL this Saturday, October 11th during the official Chicago-area EXODUS listening party! Enjoy the new limited-edition burger in celebration of the band's 10th studio album and listen to the entire record from 7:00-10:00pm. The event will also include awesome EXODUS merch giveaways. For more info, visit www.kumascorner.com.
Blood In, Blood Out is due out in North America on October 14th. The digi-pak version will include a bonus DVD which will include the clip above, as well as all previous DVD clips released via GUITARWORLD.com:
·Part 1 featuring guitarist & songwriter Gary Holt
·Part 2 featuring guitarist Lee Altus
·Part 3 featuring vocalist Steve "Zetro" Souza
·Part 4 featuring bassist Jack Gibson