Misc.
Get the new limited edition Exodus t-shirt! Only available from JSR while supplies last. At the following link: http://www.jsrdirect.com
2 New dates added for the U.K. in June!
7th June 2017 @ Concorde 2 – Brighton
Tickets: www.loutpromotions.co.uk/exodus-brighton
8th June 2017 @ Chinnerys – Southend
Tickets: www.loutpromotions.co.uk/exodus-southend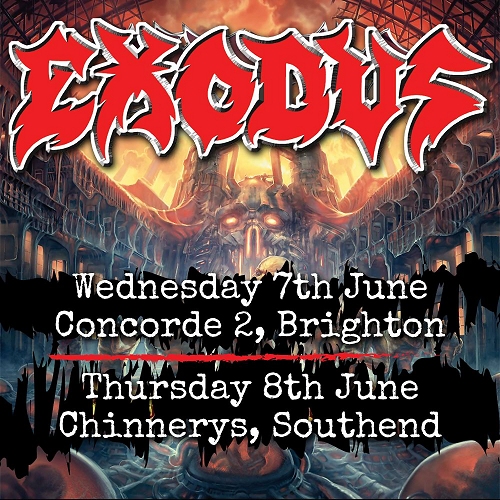 We're stoked to be playing the Bang Your Head Luxembourg Festival 2016 on November 26th! Check out the following links for more info:
BYH Festival Page:
https://www.facebook.com/BangYourHeadLuxembourgFestival
BYH Festival Event:
https://www.facebook.com/events/294767264197892/
Event on Venue Homepage:
http://kulturfabrik.lu/en/program/details/event/bang-your-head-vol-10/
Ticket links:
http://kulturfabrik.lu/en/tickets/
Updated flyer: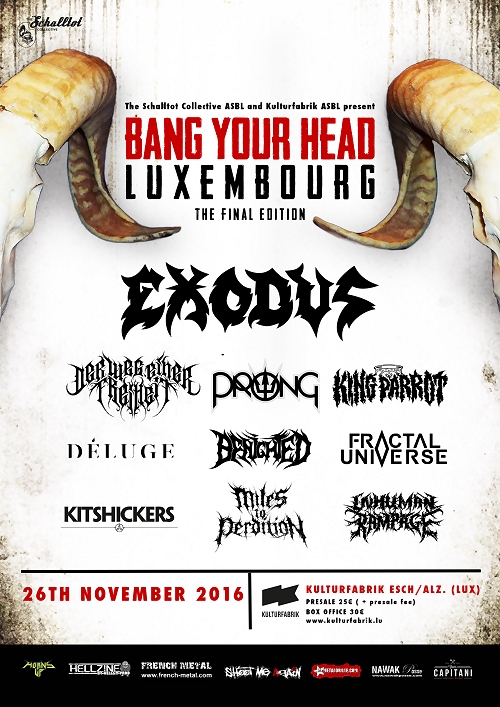 For Immediate Release
July 6, 2015
Thrash Legends EXODUS Featured in Latest SPOTIFY "Metal Talks" Episode
Listen Now: http://spoti.fi/MetalTalks
Order New Album "Blood In, Blood Out" Here – Out Now via Nuclear Blast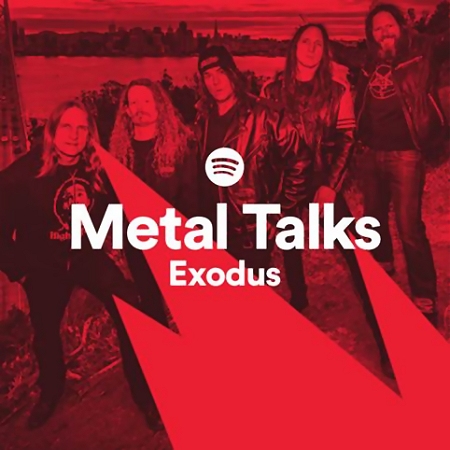 Thrash metal legends EXODUS are featured on the latest episode of premier music streaming service Spotify's "Metal Talks" series, and fans can head to the show's landing page now to listen: http://spoti.fi/MetalTalks. Spotify "Metal Talks" is a podcast-style show showcasing metal/heavy/hard rock's most important artists. Each episode features intimate and in-depth conversations with an artist, interspersed with their own music and favorites from other artists. It's a rare opportunity to get into the heads of the folks producing some of the most vital and tribal music out there.
As of very recently, fans can hear the first three classic EXODUS records on Spotify – Bonded By Blood, Pleasures of the Flesh, and Fabulous Disaster.
EXODUS just wrapped up a successful European tour that comprised of several one-off dates and festivals, including Sweden Rock Festival, Forta Rock Festival, Copenhell Festival, Metal Frenzy Festival, Graspop Metal Meeting, Hellfest Festival, and Tuska Open Air.
Later this year, EXODUS will take part in the Motörhead's Motörboat Cruise, departing from Miami, FL on September 28th. Motörhead's Motörboat offers guests a once-in-a-lifetime opportunity to share an experience with their favorite bands and to see unforgettable performances on various stages throughout the ship and on the island of Great Stirrup Cay. The full lineup for Motörhead's Motörboat is as follows: Slayer, Motörhead, Anthrax, Suicidal Tendencies, Hatebreed, Exodus, Corrosion of Conformity, Phil Campbell's All Starr Band, Crobot, Motor Sister, KYNG, Brian Posehn, Fireball Ministry, Huntress, Big Jay Oakerson, The Shrine, Others, No Words, Budderside, Sonia Harley, and The Dead Deads. Visit www.MotorheadCruise.com to reserve a stateroom.
For Immediate Release
March 19, 2015
EXODUS Guitarist GARY HOLT Takes Over Sirius XM Liquid Metal All Weekend
Starting Tonight from 7pm-9pm ET!
Catch EXODUS on the DARK ROOTS OF THRASH II Tour with Headliners TESTAMENT and Special Guests SHATTERED SUN – April/May 2015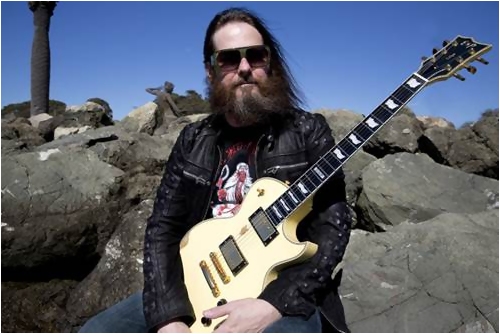 Bay Area thrash metal legend and EXODUS guitarist Gary Holt will host his own SiriusXM Liquid Metal Takeover this weekend, picking out over a dozen of his favorite cuts from his bands, and tracks from bands such as Venom, Warbringer, Death Angel, Metallica, Rainbow, Heathen and more!
Tune in to SiriusXM Channel 40 – Liquid Metal
AIRING TIMES:
Thursday, March 19th @ 7pm-9pm ET
Thursday, March 19th @ 10pm-12am ET
Friday, March 20th @ 12pm-2pm ET
Saturday, March 21st @ 9am-11am ET
Sunday, March 22nd @ 5pm-7pm ET
***Also available on SiriusXM On Demand***
Gary Holt is interviewed by SiriusXM host Jose Mangin about EXODUS' upcoming run on the Dark Roots of Thrash II tour with headliners TESTAMENT and special guests SHATTERED SUN, the band's new Billboard Top 40-charting album Blood In, Blood Out, guacamole, kids, the 49ers, health topics and more!