Misc.
For Immediate Release
March 19, 2015
EXODUS Guitarist GARY HOLT Takes Over Sirius XM Liquid Metal All Weekend
Starting Tonight from 7pm-9pm ET!
Catch EXODUS on the DARK ROOTS OF THRASH II Tour with Headliners TESTAMENT and Special Guests SHATTERED SUN – April/May 2015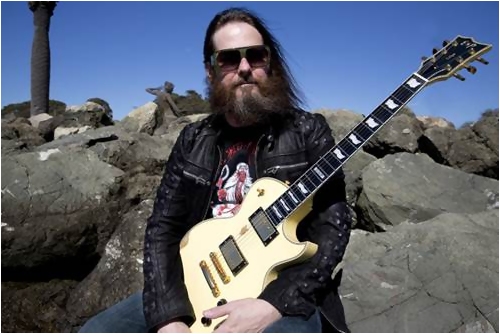 Bay Area thrash metal legend and EXODUS guitarist Gary Holt will host his own SiriusXM Liquid Metal Takeover this weekend, picking out over a dozen of his favorite cuts from his bands, and tracks from bands such as Venom, Warbringer, Death Angel, Metallica, Rainbow, Heathen and more!
Tune in to SiriusXM Channel 40 – Liquid Metal
AIRING TIMES:
Thursday, March 19th @ 7pm-9pm ET
Thursday, March 19th @ 10pm-12am ET
Friday, March 20th @ 12pm-2pm ET
Saturday, March 21st @ 9am-11am ET
Sunday, March 22nd @ 5pm-7pm ET
***Also available on SiriusXM On Demand***
Gary Holt is interviewed by SiriusXM host Jose Mangin about EXODUS' upcoming run on the Dark Roots of Thrash II tour with headliners TESTAMENT and special guests SHATTERED SUN, the band's new Billboard Top 40-charting album Blood In, Blood Out, guacamole, kids, the 49ers, health topics and more!
For Immediate Release
March 13, 2015
Exodus Guitarist Gary Holt Appearing on VH1 Classic's That Metal Show This Saturday March 14th @ 9/8 Central
Don't miss this! Bay Area thrash metal legend and EXODUS guitarist Gary Holt will appear on this Saturday's episode of VH1 Classic's That Metal Show, airing at 9/8 Central and featuring additional guest appearances by Marky Ramone, Darryl Daniels, and Joel Hoekstra. Catch Gary Holt discussing EXODUS' upcoming run on the Dark Roots of Thrash II tour with headliners TESTAMENT and special guests SHATTERED SUN, the band's new Billboard Top 40-charting burner Blood In, Blood Out, and other happenings. For more information, visit www.Facebook.com/ThatMetalShow or www.vh1.com/shows/that_metal_show.
For Immediate Release
December 4, 2014
EXODUS Drummer TOM HUNTING Performs for New Jersey Music Students at Master Class Clinic
See Below for Photos from "Meetings with Masters" at New Jersey's Old Bridge Music Center School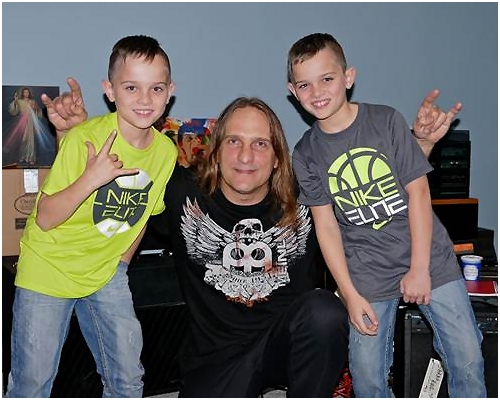 This past Sunday, November 30th, students at The Old Bridge Music Center School in Old Bridge, New Jersey, were treated to a special Master Class clinic with EXODUS drummer Tom Hunting. The event was part of the school's ongoing "Meetings with Masters" series that offers young music students the chance to learn from top music industry professionals from around the world.
Highlights of the Master Class included an inside look at Hunting's successful career, drum tips and techniques, advice to young musicians looking to have a career in the music industry, and a Q&A session. Students were then given the opportunity to play along with Hunting on a second drum set with other student musicians in a series of "Double Drum" jams to close the event, much to the delight of all in attendance.
"Wow! What an amazing day! We had such a great time and it was really inspiring to take part in the very important work that The Old Bridge Music Center School does," states Tom Hunting. "I couldn't be happier about how the day went. We talked a lot about touring, and the lifestyle, practice techniques, different styles of music, and pretty much every aspect of music. And the kids were so smart, extremely talented, and very engaged in the process. I left there wishing we had more time to talk and jam!
Hunting adds, "Teaching is something I plan to pursue as a career when all the touring, recording, and traveling with EXODUS settles down in the future. This was my first time teaching (other than a few private lessons) and I left Old Bridge inspired and with a feeling that this is a good path for me. I wanna thank both of the Gregg's and Zipperhead and everyone else involved in this school for one of my favorite days I can ever remember! It was a true pleasure and I can't wait to get back to Old Bridge! Cheers!"
See below for photos from the Master Class Clinic!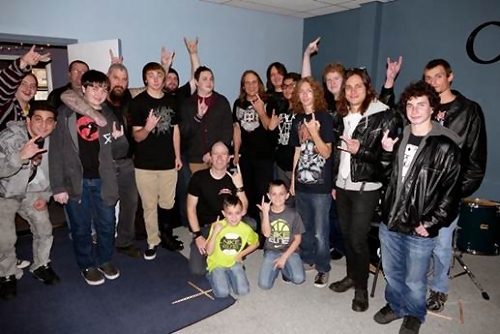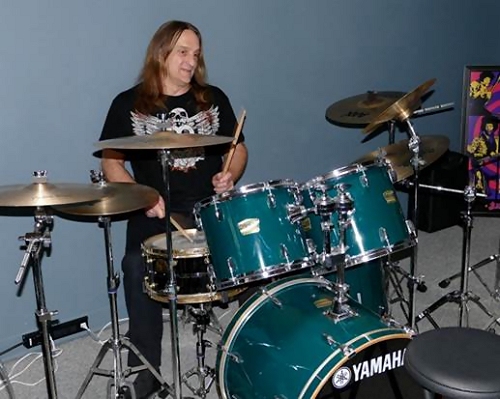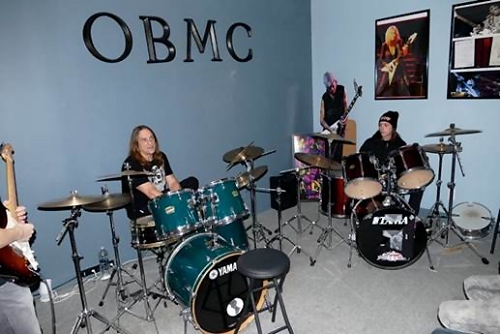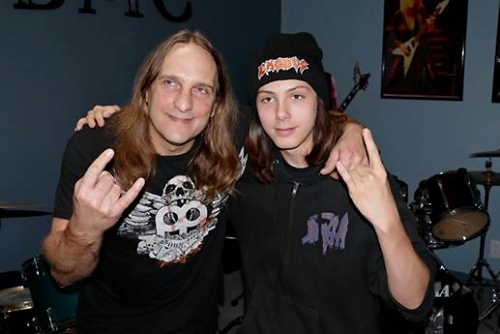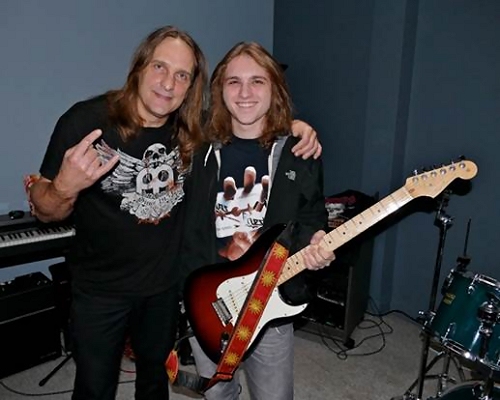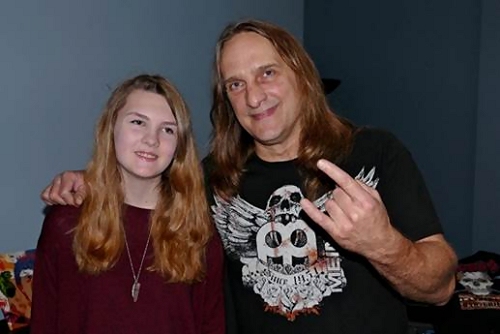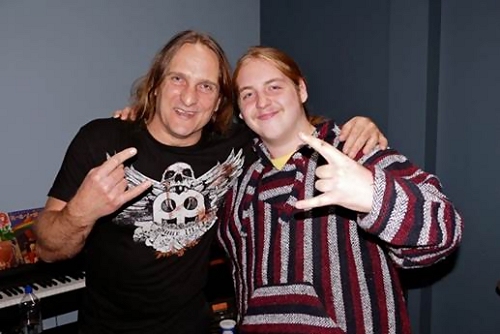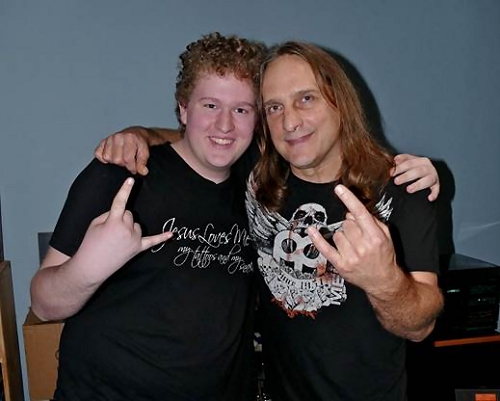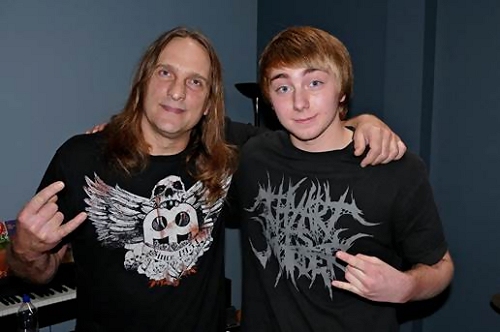 To learn more about the Old Bridge Music Center and their programs, please visit www.oldbridgemusiccenter.com, http://oldbridgemusiccenter.wordpress.com, or www.facebook.com/oldbridgemusiccenter.
Tom Hunting and EXODUS are currently wrapping up their tour with headliners Slayer and fellow special guests Suicidal Tendencies. Afterward, EXODUS will embark on a quick run of headline shows from December 7th through December 14th. See below for all remaining tour dates.
EXODUS in North America with SLAYER & SUICIDAL TENDENCIES
12/04 – Egyptian Room at Old National Centre – Indianapolis, IN
12/05 – The Fillmore Detroit – Detroit, MI
12/06 – The Venue at Horseshoe Casino – Hammond, IN
EXODUS Headline Dates:
12/07 – Aftershock – Merriam, KS
12/08 – Gothic Theatre – Denver, CO
12/09 – Pub Station – Billings, MT
12/10 – The Hop – Spokane, WA
12/11 – Studio Seven – Seattle, WA
12/12 – Hawthorne Theater – Portland, OR
12/13 – Chico, CA @ Senator Theater
12/14 – Fresno, CA @ Strummers
UPDATE: James Evans, the Kentucky man who was arrested for posting lyrics from Exodus' song "Class Dismissed" will not be facing criminal charges. The court threw out the terrorist threat charge against Evans. You can read the article below:
Exodus sends their deepest sympathy to the loved ones of their fan Gustavo Molina who died shortly after their show in Buenos Aires Argentina on October 13, 2014.
The band was informed of the tragic incident which occurred after the Buenos Aires show by the show promoter. The promoter conveyed to the band that towards the end of the show a young man collapsed, and lost consciousness. He was brought outside and was treated at the ambulance's car, but despite CPR and heart injections, unfortunately, he passed away at the ambulance. Exodus wishes to express their  thoughts  to  the  family at this difficult time.
Facebook: Gustyce PurpleBlack Gustavson
He was in a band called Kronos Thrash (https://www.facebook.com/kronos.thrash)