Metal heads all over Europe have waited for a tour of this magnitude, Obituary, Exodus, Prong, and King Parrot, this one will be talked about for years to come!!! Battle of the Bays!!! I can guarantee Exodus will be ready for battle!!! See you in the pit!!!
Dates added:
21 Oct 2016 Germany, Hannover @ Capitol
01 Nov 2016 Belgium, Antwerp @ Trix
02 Nov 2016 Netherlands, Tilburg @ O13
03 Nov 2016 Netherlands, Leeuwarden @ Neushoorn
04 Nov 2016 Germany, Cologne @ Live Music Hall
08 Nov 2016 Germany, Dortmund @ FZW
09 Nov 2016 Germany, Berlin @ Huxleys
10 Nov 2016 Germany, Leipzig @ Taubchenthal
13 Nov 2016 Czech Republic, Ostrava @ Garaz
18 Nov 2016 Austria, Vienna @ Arena
19 Nov 2016 Italy, Bologna @ Zona Roveri
20 Nov 2016 Switzerland, Zurich @ Komplex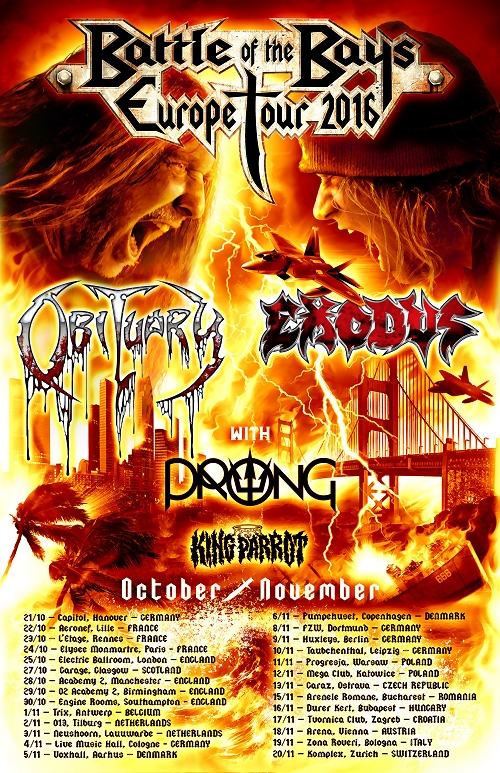 Exodus confirmed for Killswitch Engage shows in San Francisco, Los Angeles & Las Vegas
***Please Note: Tickets go on sale Thursday, June 30th at 10:00am, PST***
Killswitch Engage with Exodus + Unearth:
Date: Thursday, September 1st, 2016
Location: San Francisco, CA
Venue: The Regency Ballroom
Ticket Link: http://bit.ly/28ZQI0B
Date: Friday, September 2nd, 2016
Location: Los Angeles, CA
Venue: The Novo
Ticket Link: http://bit.ly/29iNIgz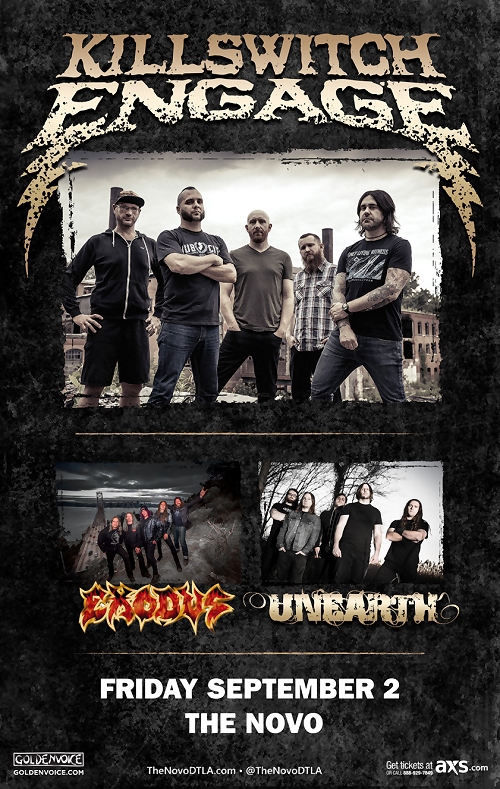 Date: Saturday, September 3rd, 2016
Location: Las Vegas, NV
Venue: Brooklyn Bowl
Ticket Link: http://ticketf.ly/28YAqVm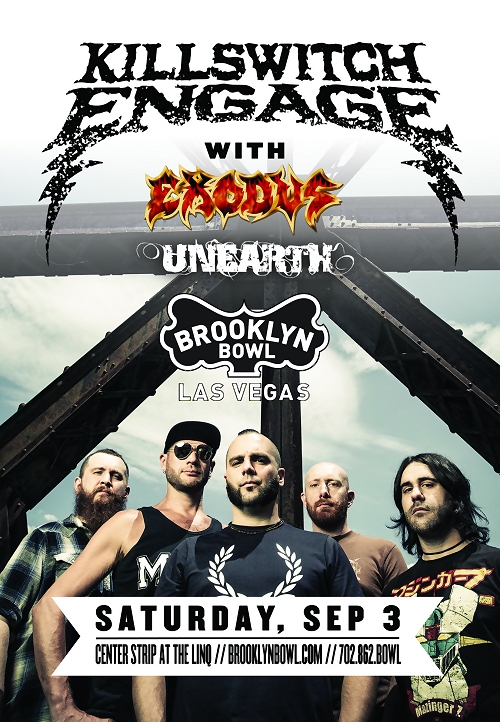 Exodus is confirmed for Bang Your Head Luxembourg 2016 set for November 26th; you can get tickets here: http://bit.ly/21744fv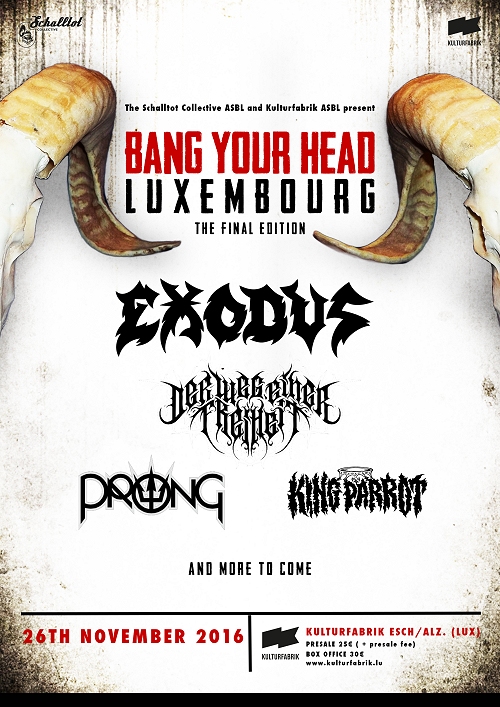 The American legends go to War! Tampa Bay Florida Death Metal GodFathers Obituary
meet WestCoast Bay Area Thrash Metal Kings Exodus for an Epic "Battle of the Bays"!
Tickets go on sale this Friday, June 10th, 9am British Summer Time / 10am CET.
Battle Of The Bays European Tour 2016
OBITUARY, EXODUS, with PRONG, KING PARROT
***Note: More countries on this tour to be announced at the end of August
Sat 22 Oct – Aeronef, Lille – FRANCE
Sun 23 Oct – L'Etage, Rennes – FRANCE
Mon 24 Oct – Elysée Montmartre, Paris – FRANCE
Tues 25 Oct – Electric Ballroom, London – ENGLAND
Thurs 27 Oct – Garage, Glasgow – SCOTLAND
Fri 28 Oct – Academy 2, Manchester – ENGLAND
Sat 29 Oct – 02 Academy 2, Birmingham – ENGLAND
Sun 30 Oct – Engine Rooms, Southampton – ENGLAND
Sat 5 Nov – Voxhall, Aarhus – DENMARK
Sun 6 Nov – Pumpehuset, Copenhagen – DENMARK
Fri 11 Nov – Progresja, Warsaw – POLAND
Sat 12 Nov – Mega Club, Katowice – POLAND
Tues 15 Nov – Arenele Romane, Bucharest – ROMANIA
Wed 16 Nov – Durer Kert, Budapest – HUNGARY
Thurs 17 Nov – Tvornica Club, Zagreb – CROATIA